REFERENCED GAMES
POPULAR ARTICLES
Battlefield 3 Console Restrictions Detailed
DICE head Patrick Bach explains the key differences between PC and console versions of the upcoming FPS
DICE's upcoming war opus,
Battlefield 3,
is undoubtedly one of the most photo-realistic first-person shooters the genre has ever seen. Fans have been repeatedly awestruck by gorgeous displays of the game's new graphics engine - Frostbite 2 - providing an unprecedented amount of detail and life-like destruction to immerse players like never before. We previously
reported
that to achieve the stunning visuals seen in a number of recently released demos, users would need a heavily equipped PC. Furthermore, console versions of the game would suffer due to hardware restrictions, though it was never certain in what ways exactly.
Today, DICE head Patrick Bach explained the necessary cuts needed for an optimal console experience: "The biggest difference between the PC and console version of
Battlefield 3
is that we have 64 players on PC and 24 players maximum on console. The rest is more or less the same: we use the same engine, the same technology, the same animation system, the same lighting system. Our aim is to give the player the exact same experience and not try to dumb down the console version."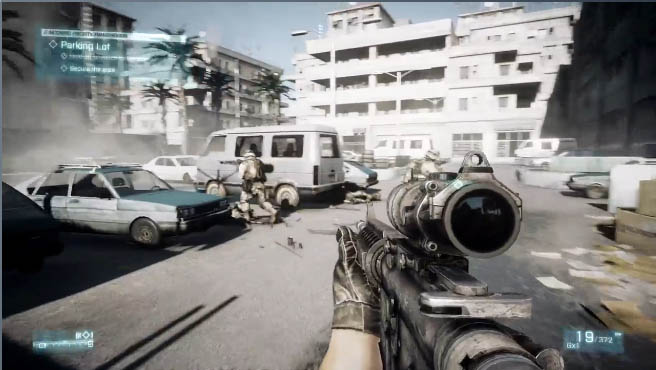 Bach further explains that to get the same quality game for console and PC versions is understandably "really, really hard." In order to get more players into the console version there would be drastic cuts to graphic quality, building destructibility, and map sizes - all factors that have come to separate the Battlefield series from the horde of first-person shooters flooding the market.
Accordingly, Bach outlined the key differences in the game's maps being 'smaller' on consoles: "When we say they are smaller, it's not that we have cut them in half. But we tried to compact them slightly to keep the action up. If you compare it to Battlefield: Bad Company 2, the maps weren't really small on console. We actually had huge maps even for console. We have the same kind of angle on it right on in Battlefield 3."
Bach emphasizes their desire to create the same experience for PC and consoles. Decreasing a lobby's maximum size and slight map alterations to maintain the visuals that have made Battlefield 3 a spectacle of sorts seems like a fair exchange to me.